---
Since my collection of audio and video hardware is growing steadily, I'm able to offer an accessible rental service for fellow video-artists, students, expositions, festivals and others that are interested.
Check the pictures and information below. Please contact me for inquiries or if you have any questions. I'm not going to give you a fixed price here, because I think every situation asks for a different inquiry. Keep in mind that any form of a deposit could be needed depending on the situation and the gear you want to rent.
---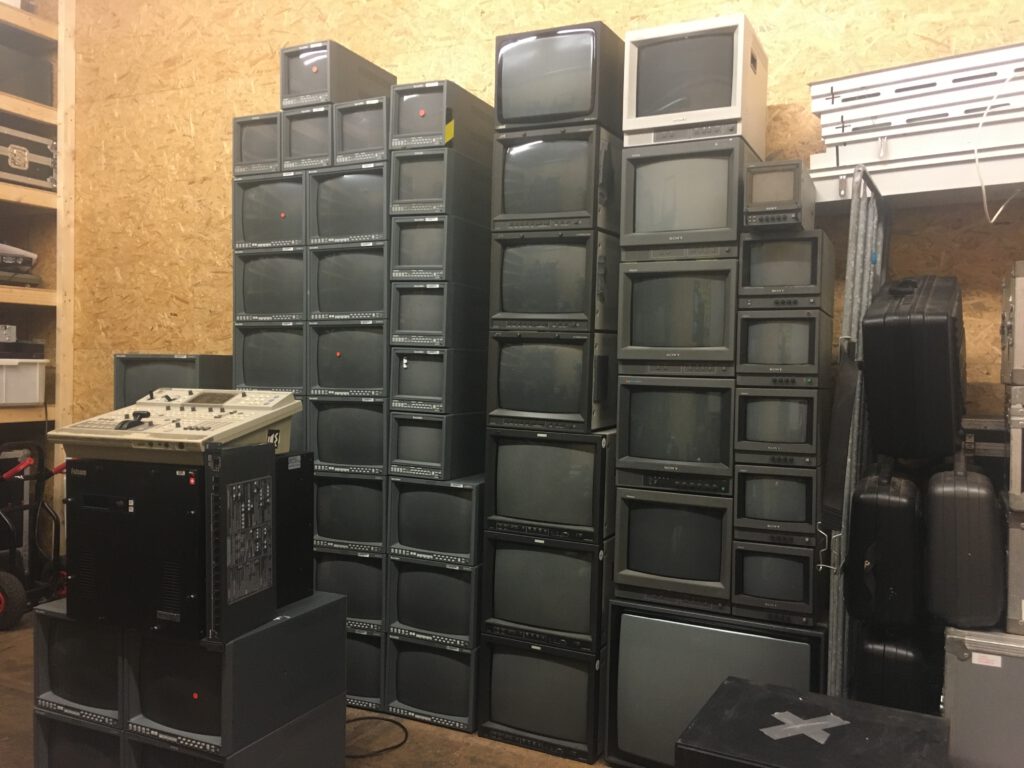 ---
Video
Mediaplayers – all videoformats (incl audio) via composite and HDMI
Extron MAV88 – 8in/8out composite video matrix
Extron MAV – 8in/8out VGA video matrix
Kramer … – 2in/8out composite video distribution
Kramer … – video processor
Pioneer DVD-V8000 – DVD player (not for recording)
Panasonic WJ-MX50 – analog video mixer
Panasonic WJ-MX70 – analog/digital video mixer
Panasonic WJ-AVE5 – analog video mixer
Edirol V4EX – analog/digital video mixer
Different cameras
Lots of different CRT monitors and TVs. Consumer and professional grade, high and low quality, some identical sets or lot of different ones. I also have a small amount of LCD and LED screens available.
Audio
Mixers:
Soundcraft Ui24R – 24 channel digital mixer/recorder
Mackie 1402VLZ4 – 6 mono/4 stereo mixer
Allen & Heath Mixwizard3 14:4:2 – 10 mono/4 stereo mixer
Allen & Heath XONE:23 – 2 channel dj mixer
Allen & Heath XONE:PX5 – 4 channel dj mixer

Compact but powerful Mini Soundsystem:
2x Turbosound IQ12 – 12″ 2500 watt active fullrange speakers (perfect as monitors)
2x Turbosound IQ18B – 18″ 3000 watt active subwoofer
This system comes with speaker stands.

Not so compact but 10+ kilowatt CircuitFreax Soundystem:
4x 18Sound DIY – 18″ 1200 watt hornloaded subwoofer
4x Cubo Kicks – 15″ 500 watt hornloaded kicks (midlow range)
4x Community SLS920 – fullrange 200 watt speaker
2x Martin Audio MH212 – dual 12″ 300 watt mid-bass
4x EAW SB250 – dual 15″ 2000 watt reflex subwoofer
2x EAW SB180 – 18″ 1000 watt reflex infra subwoofer
Processing and amplifier racks

Small and personal sound monitoring (for exhibitions, galleries, musea):
2x active studio speakers
2x monitor stands
4x monitoring headphones

Different configurations are possible depending on what you need.
Other
Cables:
Schuko, 6.3mm jack, RCA, XLR, composite over RCA or BNC, VGA, MIDI, USB… I have a lot.
Other:
I also have some other stuff, think of oscilloscopes, transistor radios, soldering irons, other tools, flightcases, etc.