---
Since my collection of (mostly video related) hardware is growing steadily, I'm able to offer an accessible rental service for fellow video-artists, students, expositions, festivals and others that are interested and might not have an unlimited budget. Please keep in mind that I'm running this thing myself and I don't have unlimited time, means and supplies (just like the clientele I'm aiming for). My own artistic focus is mostly on analog audio and video, so this is also the domain my gear is in.
Please have a look at the pictures and information below. Please contact me for inquiries or if you have any questions. I'm not going to give you a fixed price here, because I think every situation asks for a different inquiry. Keep in mind that any form of a deposit could be needed depending on the situation and the gear you want to rent.
---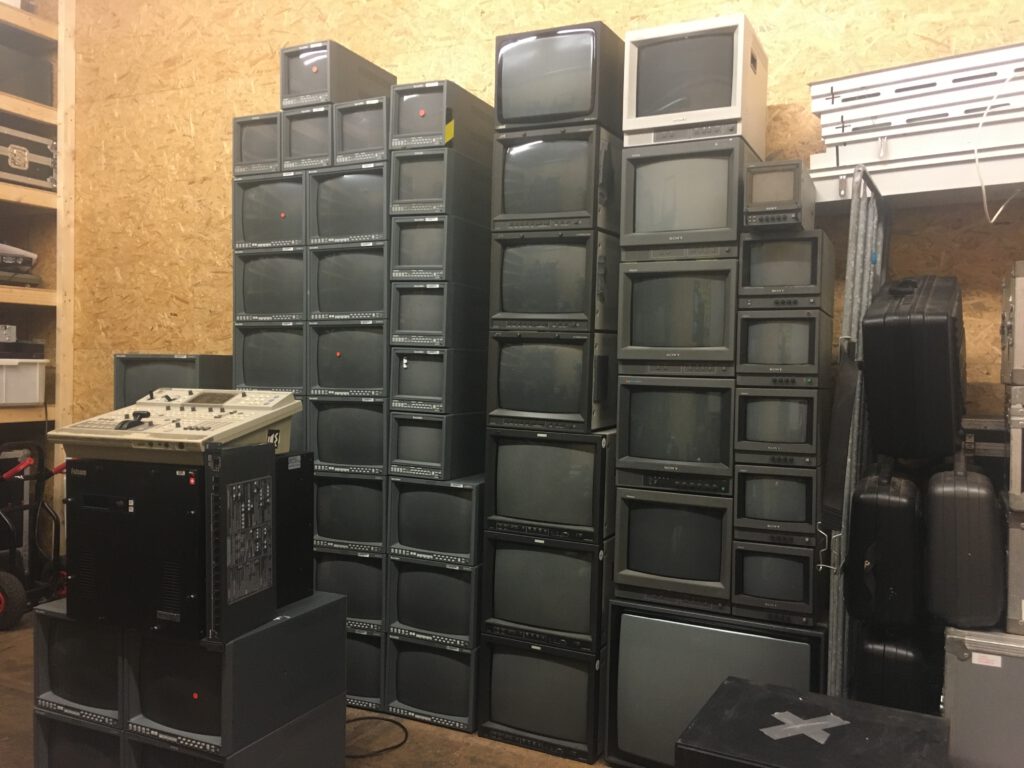 ---
Video:
Mediaplayers – all videoformats (incl audio) via composite and HDMI
Extron MAV88 – 8in/8out composite video matrix
Extron MAV – 8in/8out VGA video matrix
Kramer … – 2in/8out composite video distribution
Kramer … – video processor
Pioneer DVD-V8000 – professional grade DVD player (not for recording)
Panasonic WJ-MX50 – professional grade video mixer
Panasonic WJ-MX70 – professional grade video mixer
Panasonic WJ-AVE5 – prosumer grade video mixer
Some CCTV cameras
There are also a lot of different CRT monitors and TV's available. Consumer and professional grade, high and low quality, some small identical parties but mostly a lot of different ones. I also have a small amount of LCD and LED screens available.
Audio:
Allen & Heath MixWizard 14/4/2 – 10 mono/2 stereo channel mixer
Mackie 1402VLZ4 – 6 mono/4 stereo channel mixer
Cables:
Schuko, 6.3mm jack, RCA, XLR, composite over RCA or BNC, VGA, MIDI, USB… I have a lot, but it won't be sufficient for every situation. Please arrange most of the cables and power splitters yourself, I can only offer some to top things off. Just let me know what your plan is so we can talk about the possibilities.
Other:
I also have some other stuff, think of oscilloscopes, transistor radios, soldering irons, other tools, flightcases, etc.