with Ludowic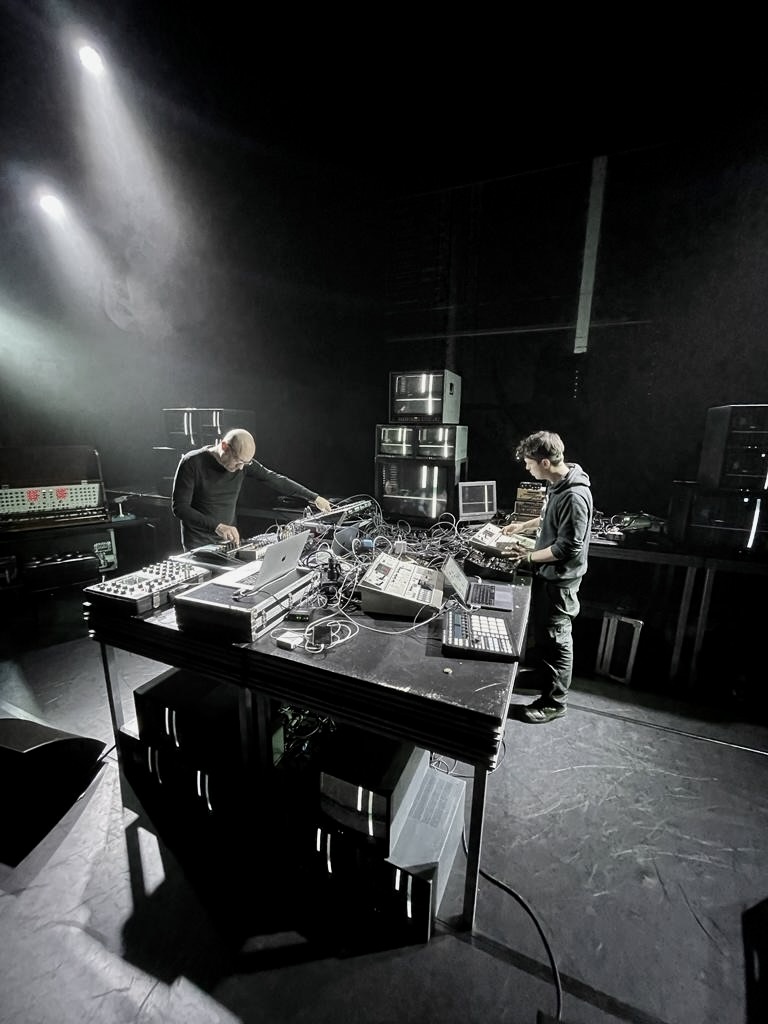 November 2022 I did the D-Sound residency by Kunstmin together with Ludowic. We prepared an audiovisual live performance with Thijs on music and me on the visual part. Both of our approach to creation is very hardware focussed. Because of that we had a massive collection of synths, drumcomputers, video equipment and CRT monitors on stage.
Aftermovie
Blurb from D:Sound website (in Dutch):

"Voor deze editie nodigen wij sound artist LudoWic (Thijs Lodewijk, NL) uit, samen met visual artist Roel Weerdenburg (NL). De avond wordt gehost door Evita de Roode.

'Noise & Harmony' In de wereld van orde hebben we controle en denken we na over wat we gaan doen. In de wereld van chaos gebeuren dingen spontaan, bestaat onvoorspelbaarheid en onzekerheid. In deze snelle veranderlijke digitale en technologische tijd hebben orde en chaos meer verband met elkaar dan ooit.  

Lodewijk en Weerdenburg gaan het spanningsveld tussen deze twee werelden onderzoeken en vertalen naar een audio-visuele live show. 

Door middel van feedback lussen, noise generatoren, oude beeldbuis TV's en vintage analoge synthesizers zal er in het Energiehuis een wereld gecreëerd worden waarin de twee kunstenaars zullen balanceren tussen orde en chaos. 

Voor de input van de audio-visuele performance die zij gaan creëren voor deze residentie, zullen Lodewijk en Weerdenburg gebruik maken van data afkomstig van diverse gebouwen uit Nederland. Data gegenereerd door het chaotische bestaan van mensen, opgeslagen als ordelijke databundels, en vervolgens weer vertaald naar een performance waar willekeur een grote rol speelt.  

In aanloop naar de residentie in het Energiehuis gaven Lodewijk en Weerdenburg een masterclass aan studenten Spatial Design aan de Willem de Kooning Academie in Rotterdam. Met deze inspiratie zijn de studenten gaan bouwen aan een capsule die hun artistieke visie als kunstenaar verbeeldt. Vier van deze kunstwerken worden geselecteerd en komen terug in de performance op 24 november."